Lightroom CC 2015.7 / 6.7
Вслед за анонсом
Lightroom mobile iPad и iPhone
в честь Apple iOS 10, сегодня оновляется macOS до версии Sierra и логично, что сегодня обновится весь основной софт, к примеру Adobe уже зарелизили
Lightroom CC 2015.7 / 6.7
.

В новый
лайтрум
добавили поддержку
macOS Sierra
, новый плагин
Adobe Stock plug-in
, новые профили камер и объективов, а так же исправили ряд багов с прошлых релизов.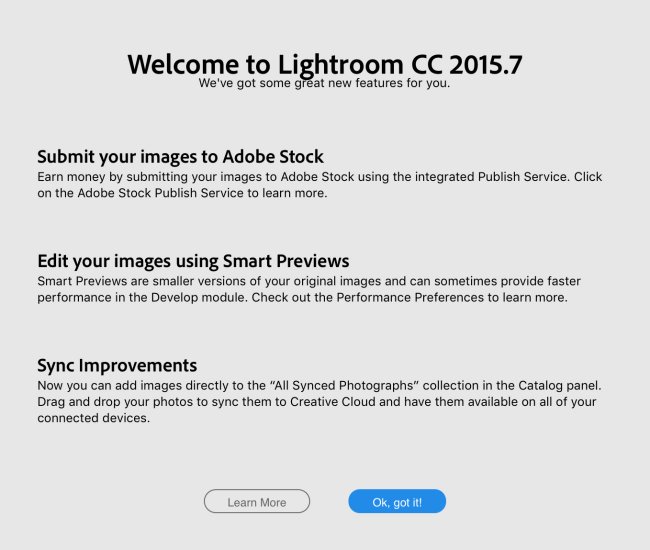 В Lightroom CC 2015.7 / 6.7 добавлена поддержка новых моделей камер:
Apple iPad Pro 9.7″ (Wi-Fi and cellular);

Apple iPhone 6s Plus;

Apple iPhone 6s;

Apple iPhone SE;

Canon EOS 5D Mark IV (with limitations on dual pixel raw);

Casio EX-ZR4000 (EX-ZR5000);

Hasselblad H6D-100c;

Nikon D3400;

iPhone 7 / 7+ full support will be added to the next release, but since they use JPEG and DNG, even the raw files are readable immediately.
They're just lacking camera/lens profiles.
Добавлены новые профили объективов
Apple
iPad Pro back camera 4.15mm f/2.2 (RAW + JPEG)

iPhone 6s back camera 4.15mm f/2.2 (RAW)

iPhone 6s Plus back camera 4.15mm f/2.2 (RAW)

iPhone SE back camera 4.15mm f/2.2 (RAW + JPEG)
Canon
Canon EF 70-200mm f/2.8L IS II USM +1.4x

Canon EF 70-200mm f/2.8L IS II USM +2.0x

Rokinon 8mm f/3.5 UMC Fish-Eye CS

Rokinon 8mm f/3.5 UMC Fish-Eye CS II

Samyang 8mm f/3.5 UMC Fish-Eye CS

Samyang 8mm f/3.5 UMC Fish-Eye CS II

Venus Optics Laowa 105mm f2 (T3.2) Smooth Trans Focus
Leica S
Leica ELMARIT-S 1:2.8/45mm ASPH. CS
Nikon F
Nikon AF VR Zoom-NIKKOR 80-400mm f/4.5-5.6D ED

Nikon AF-P NIKKOR 70-300mm f/4.5-6.3G ED

Nikon AF-P NIKKOR 70-300mm f/4.5-6.3G ED VR

Nikon AF-S NIKKOR 105mm f/1.4E ED

Rokinon 8mm f/3.5 UMC Fish-Eye CS

Rokinon 8mm f/3.5 UMC Fish-Eye CS II

Samyang 8mm f/3.5 UMC Fish-Eye CS

Samyang 8mm f/3.5 UMC Fish-Eye CS II

SIGMA 50-100mm F1.8 DC HSM A016

Venus Optics Laowa 105mm f2 (T3.2) Smooth Trans Focus
Olympus
Bower 7.5mm f/3.5 Fish-eye

Rokinon 7.5mm f/3.5 Fish-eye

Samyang 7.5mm f/3.5 Fish-eye
Panasonic
Bower 7.5mm f/3.5 Fish-eye

Rokinon 7.5mm f/3.5 Fish-eye

Samyang 7.5mm f/3.5 Fish-eye
Pentax K
PENTAX HD PENTAX-DA 15mm F4 ED AL Limited

PENTAX HD PENTAX-DA 21mm F3.2 ED AL Limited

PENTAX HD PENTAX-DA 35mm F2.8 Macro Limited

PENTAX HD PENTAX-DA 40mm F2.8 Limited

PENTAX HD PENTAX-DA 55-300mm F4.5-6.3 ED PLM WR RE

PENTAX HD PENTAX-DA 70mm F2.4 Limited

Rokinon 8mm f/3.5 UMC Fish-Eye CS

Rokinon 8mm f/3.5 UMC Fish-Eye CS II

Samyang 8mm f/3.5 UMC Fish-Eye CS

Samyang 8mm f/3.5 UMC Fish-Eye CS II
Pentax QRicoh
Ricoh GR 18.3mm f/2.8
Ricoh GR II 18.3mm f/2.8
Sony A
Rokinon 8mm f/3.5 UMC Fish-Eye CS

Rokinon 8mm f/3.5 UMC Fish-Eye CS II

Samyang 8mm f/3.5 UMC Fish-Eye CS

Samyang 8mm f/3.5 UMC Fish-Eye CS II
Sony E
Rokinon 12mm f/7.4 RMC Fisheye
Sony FE
Rokinon 50mm AF F1.4 FE

Samyang 50mm AF F1.4 FE

Sony FE 50mm F1.4 ZA

Venus Optics Laowa 105mm f2 (T3.2) Smooth Trans Focus

Voigtlander HELIAR-HYPER WIDE 10mm F5.6

ZY Optics Mitakon SpeedMaster 85mm f/1.2
Как скачать или обновить Lightroom CC 2015.7 и Lightroom 6.7
Скачать Lightroom CC 2015.7 можно воспользовавшись приложением установщиком: Please use the Help-> Check for Updates menu item or the Creative Cloud application to install this update